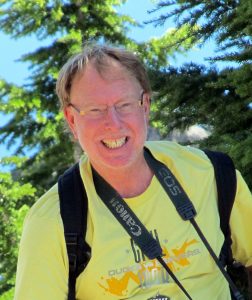 Welcome and thank you for visiting Insight Tax Solutions' website.
My name is Steven Curtis, founder and owner of Insight Tax Solutions, in Eugene, OR.
After six years of preparing personal and business tax returns for a large, national firm, I opened my own business in 2009. Insight Tax Solutions LLC is registered with the State of Oregon, and I hold a State of Oregon Tax Consultant License (29064-C) with specific training in small business, partnership, and trust and estate tax preparation. Insight Tax Solutions is a year-round, home-based business in the Friendly Area/College Hill neighborhood.

Mission Statement
To set the standard for individual, small business and trust tax preparation services by ensuring that every client receives the highest levels of accuracy and tax law knowledge; prompt preparation and immediate filing; affordable rates; and personalized customer service in the comfort of my neighborhood-based office.

Goals & Values
At Insight Tax Solutions, I am dedicated to the hard work and ongoing training necessary to update and expand my tax preparation and financial planning skills and knowledge of tax laws throughout the year to meet the needs of a wide base of clients. I take a holistic view of tax and financial management, focusing on helping individuals, families and small business owners achieve their short and long term financial and personal goals and dreams.

Background
Guiding is a core life theme for me. During my 20s, I was a commercial fisherman and professional wildlife guide on the Alaskan Peninsula. In addition to fishing and guiding, I worked as Logistics Coordinator during the Exxon Valdez oil spill, managing procurement and project coordination for the Sea Otter Rescue Centers in Valdez and Homer, Alaska.
In 1993, my wife, Therese Picado, and I, along with our one-year-old son, Peter, moved to Eugene, OR. While attending the University of Oregon, my second son, Paul, was born. I graduated in 1997 magna cum laude with a B.S. in Planning, Public Policy and Management and subsequently worked for five years as the Planning Supervisor at Sony Disc Manufacturing.
As a father, I found myself in the role of guiding my two adventuresome sons through childhood and even had the opportunity to guide them on a year-long trek around the world in 2005-06 (see www.picadocurtis.net).
Inspired by realizing this dream that my wife and shared since we started our family, I headed into the tax and financial industry and became a licensed tax preparer after returning from our round-the-world odyssey. I worked for a large national tax preparation firm for six years, acquiring the hours necessary to apply for my tax consultant license. In addition, for the past three years, I expanded my financial portfolio working as a personal banker at Wells Fargo Bank. My areas of specialty at the bank were money management, financial planning, budgets and investments. Also, as many of my current clients know, I have spent many years studying securities analysis, retirement plans, asset allocation, and portfolio management and became a state-registered Investment Advisor in fall 2012.
My greatest joy, professionally, is guiding clients in their tax preparation and financial and retirement planning and helping them create and realize their own dreams.
My hobbies are photography, playing tennis and golf, hiking and exploring the amazing Oregon wilderness with family and friends, and growing vegetables, fruits and flowers in our garden.